Back to Main Salmon Ridge Sno-Park page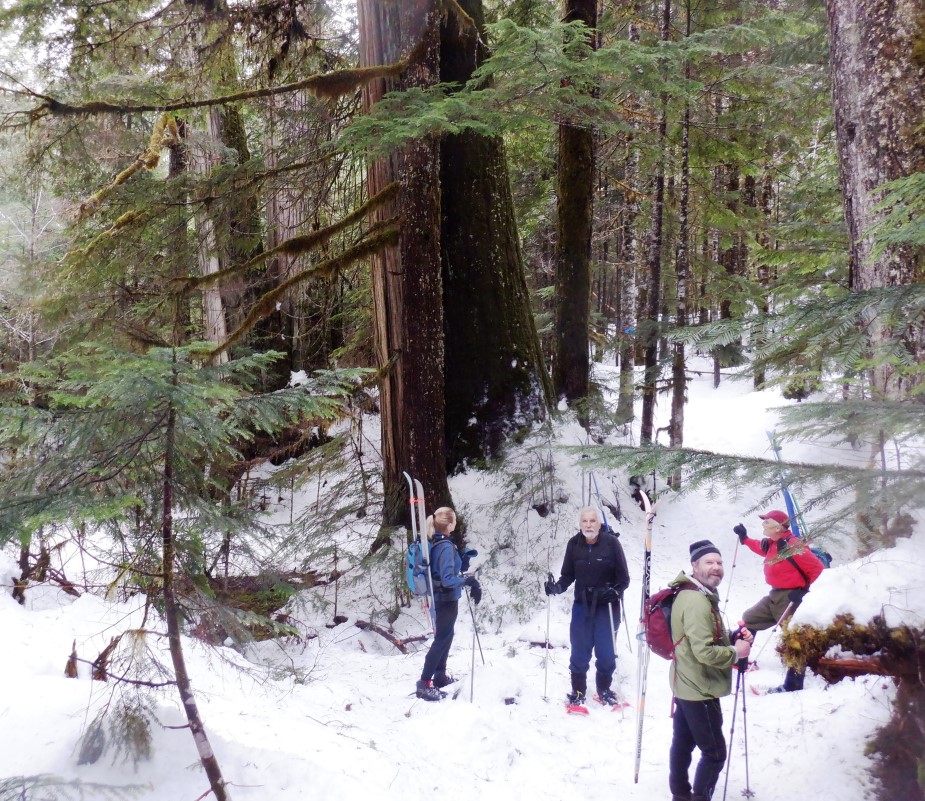 Looking for something different rather than another loop around the River Trail and Mom's? Or once more up and around the Cougar Loop? Check out some big, beautiful old trees on the Huckleberry Trail. We've been working on it for a couple of summers and think it's in good shape! (Dec. 2022) It should be well marked and ready for both snowshoes and back-country skiing. Try it as a loop, leaving Razor Hone just after the first bridge, then up to the Cougar Loop. You can then make a quicker trip back down the Cougar and back to your car. Or for more excitement, go back down Huckleberry! We've traversed it several times recently, using skis on Razor Hone/Cougar, but snowshoes on Huckleberry. With fresh snow, I think Hoks would be great and adventurous skiers could take their back-country skis. (Please send pictures…)
As of Dec. 17, 2022, the trail was clear of all recently downed trees except for one in the far section that is easy to go around. There is one giant tree that you need to duck under. There are a couple of very small creeks that require stepping over. So far, we've managed to… As always, if you find recent downed trees, please let us know.
From Razor Hone to the Cougar Loop crossing is one mile. From the crossing back to the Cougar Loop, just above the Bagley Creek bridge is another 1/3 mile. The first 100 yards is pretty steep as it climbs up from the road. If you can do that, you can do the trail. The next 1/4 mile climbs about 200 feet of elevation. If you can manage that, it eases up and is more reasonable terrain for the rest of the trail.
To find the trail, go out Razor Hone about 1 1/4 miles and you will come to the first bridge (you're skiing on a Forest Service road and it's a vehicle bridge with posts marking corners). Stand on the bridge, look further up Razor Hone. The Huckleberry Trail starts on the right, just where the road goes out of sight. Also, if you are snowshoeing out Razor Hone, please stay off the parallel ski tracks. Classical skiers really like those grooves that help their skis stay straight and allow them to 'kick and glide'.